You saw a sneak peek of my basement on Instagram a few weeks ago, but it's time to do a full reveal. We decorated our home as soon as we bought it and chose furniture for each room. Those pieces didn't necessarily stay in those spots and soon the basement became the final destination for remnants. A few months ago we realized that we had such a great space down there and wanted to invest in redoing the room. I put my interior design hat back on and this time I was designing with a different style in mind. We envisioned an elegant 'man-cave' if you will, with lots of wood and leather accents. I chose anchor pieces from Pottery Barn, West Elm, & Crate & Barrel and accented it with textured, colored, and design pieces from local vendors found on Etsy, Target, and Overstock.com.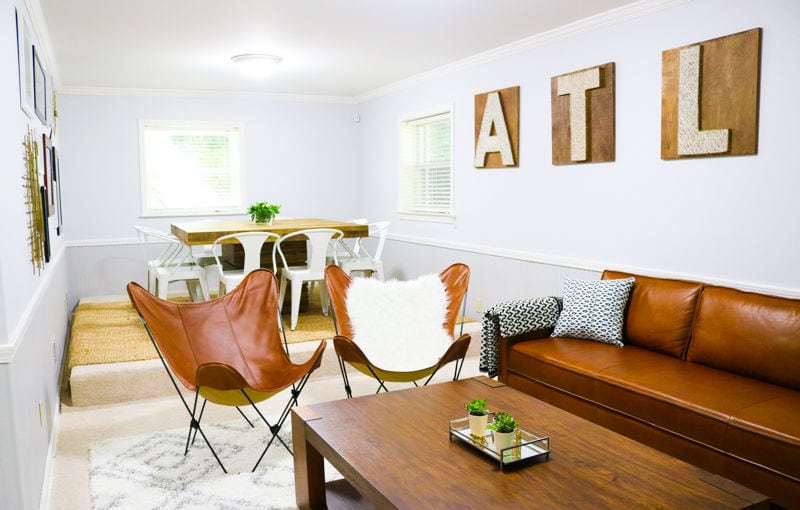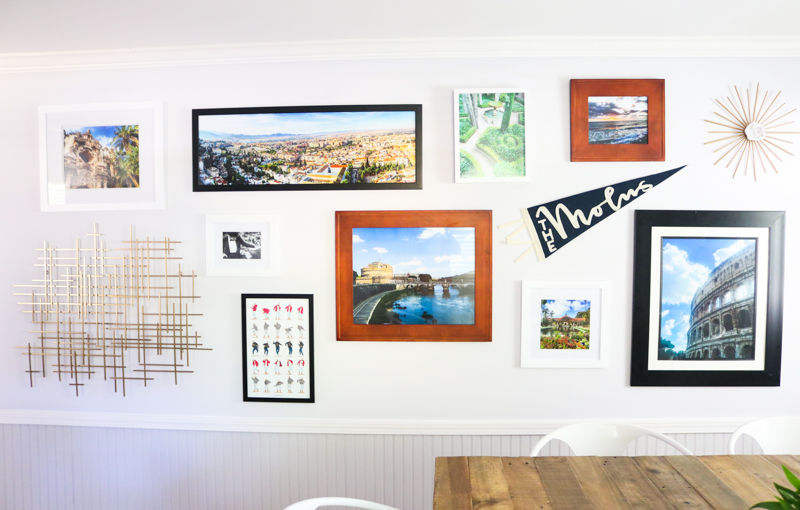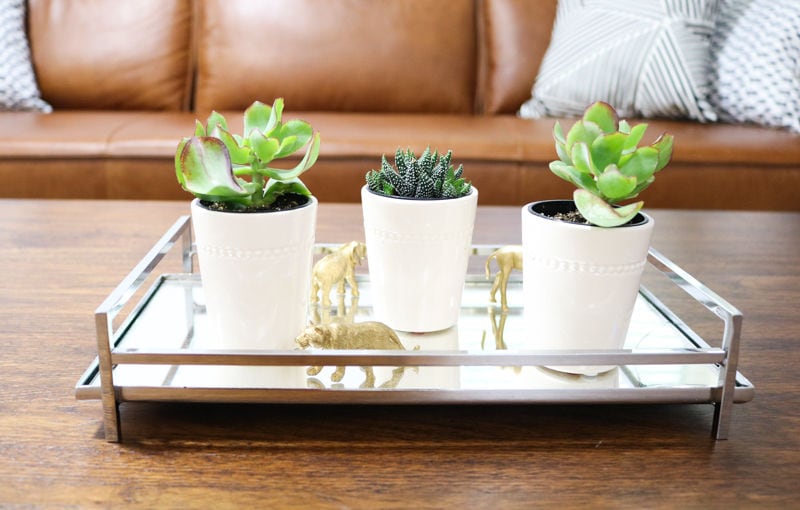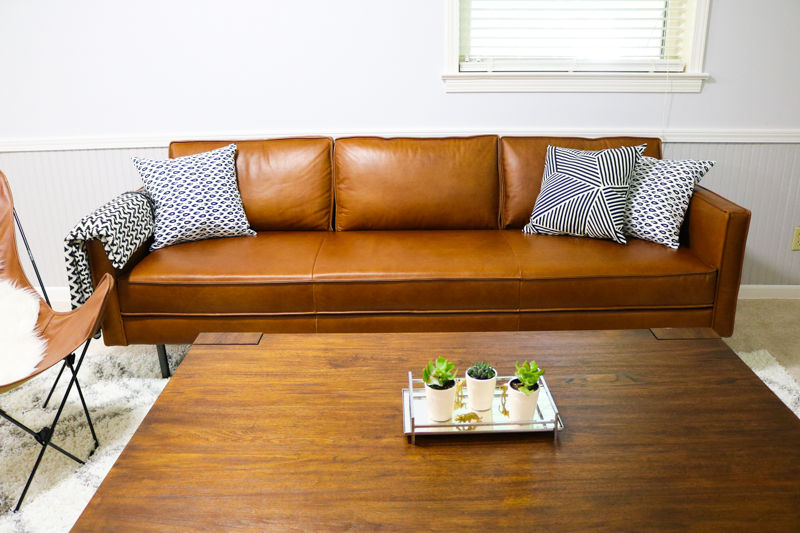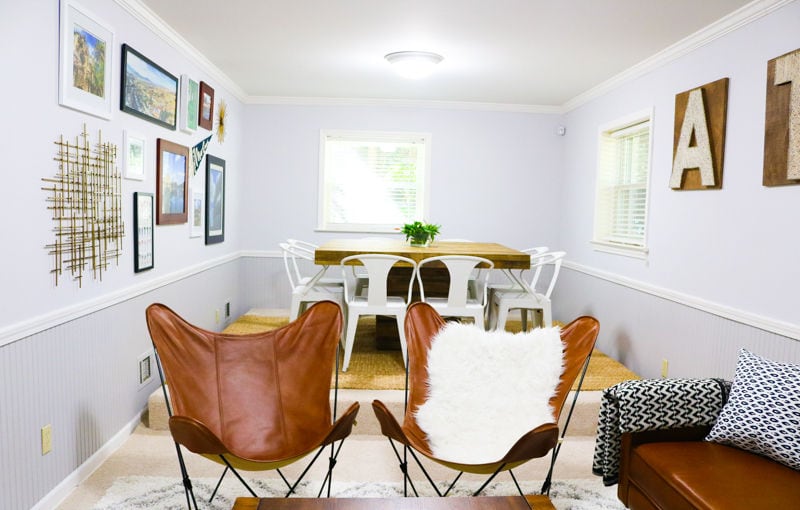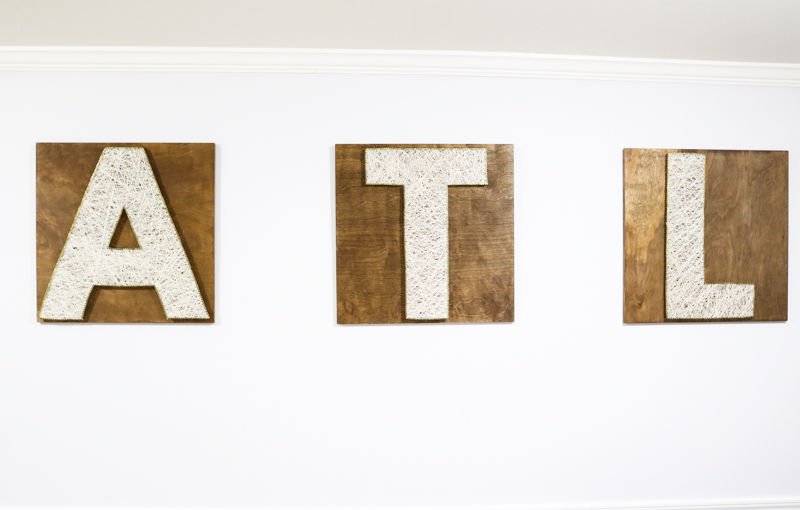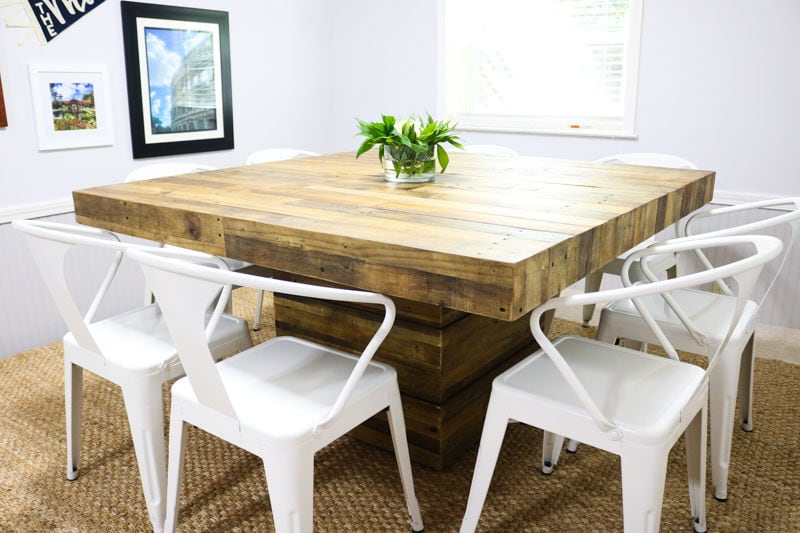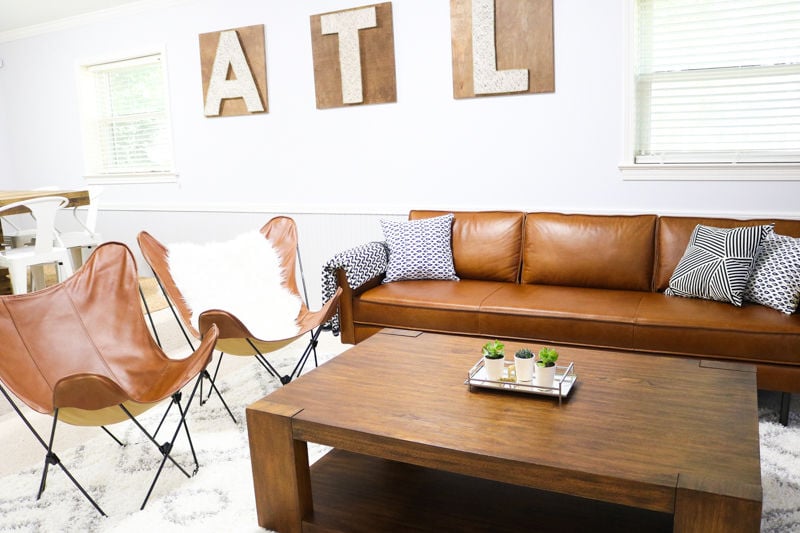 COFFEE TABLE | SQUARE DINING TABLE | LEATHER BUTTERFLY CHAIRS | FUR RUG | WHITE RUG | WHITE METAL DINING CHAIRS | JUTE FIBER RUG | SUCCULENTS | METAL TRAY | BLACK & WHITE THROW | 'ATL' THREAD ART | GALLERY WALL: GOLD GRID ART | GALLERY WALL: GOLD / MARBLE STARBURST | GALLERY WALL: DRAKE POSTER | GALLERY WALL: CUSTOM PENNANT | LEATHER SOFA
Gallery Wall
I spent months on Pinterest trying to find inspiration for a 'manly' gallery wall and turns out… it doesn't exist. I knew I wanted to do something personal to us in our home and I chose photography that my husband shot with his iPhone on our travels as the focal point. We accented these frames with some fun pieces like the gold grid, marble sunburst, and of course- a Drake poster. We also decided to get a custom pennant made with our family name from the talented, Kimberly from Winston and Lou to break up the boxy feel.
Related Post: Guide To Buying Art For Your Home
Thread Art
It was easy to decide on a gallery wall, but what to do on the opposite side had me beat. I finally found Katie from Lovestrung by KT and worked with her to design the perfect project for us. Sahir and I were both born and raised in Atlanta and wanted to represent that in our home. Katie used three '2×2' wood slabs with gold nails and white thread to create this custom piece of art. We were so happy with her work and love that it's a statement piece in our home that everyone compliments when they visit.
Furniture
This time around we really went for investment pieces. Our 'Axel' sofa from West Elm was definitely an investment, but something that we are so happy with. It is a timeless piece that we hope to keep in our home for years to come. The big search came when we were looking for a large square dining table. We wanted a table that could seat at least 8 and none of the local places had anything in stock. So, I took to the internet and found this beautiful table from Living Spaces and the process was an absolute joy. I was so nervous ordering such a big purchase online, but the experience was seamless. We had an estimated ship date when I checked out and it ended up being delivered even earlier. I got a call from the delivery company a few days after my order and a reminder the day before delivery. Two kind men came and delivered/assembled the table. Voila! Highly recommend.
Overall, we are thrilled with how the room came together. I don't think we will ever be completely done designing our home, but I can honestly say that we are happy with the aesthetic in each room. They are all different from one another, but truly represent us and the life we have built together. You can see my master bedroom reveal, entry table, dining room, & living room on the blog too!
Related Post: The 6 Best Things You Can Do For Your Home
SHOP THE POST