It's tough to narrow down my favorites when it comes to concealers because there are so many different formulas. Some are great depending on the coverage level you want and others are the perfect match based on your skin type.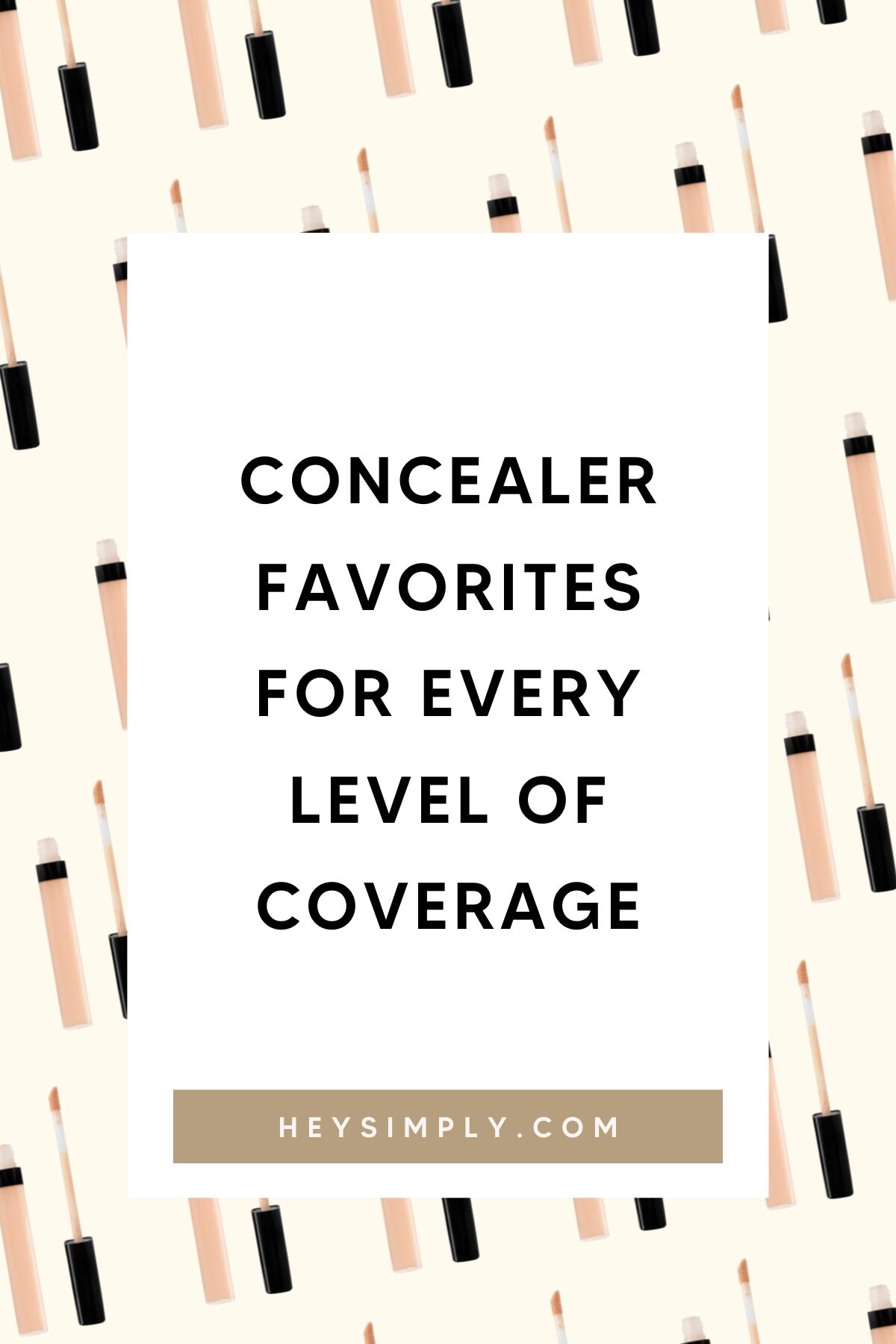 ---
Some famous formulas are known to be a little drying (shoutout shape tape), and others don't do nearly enough. Since it's my job to test products and make life a little more simple for you – I did the work and have a final list.
Here are my current favorite concealers for every coverage level that are tried and tested – extensively.
---
Sheer Coverage
People swear by this one, and it's an old favorite. I feel like the coverage isn't quite there for me, but it's creamy and good for work-from-home or gym days where you don't need too much coverage.
Shade Medium
---
Light Coverage
I take this one with me on vacation because I like the light coverage. It wears well without foundation and blends well into my skin.
Shade 30NN
---
Light Coverage – Glowy
This is a newer product that I've tried and I honestly kinda liked it. I'm typically a matte concealer kinda girl, but if you like a little glow you may love this one. Bonus points: Sale is a clean beauty brand.
Shade HB3
---
Medium Coverage
I absolutely love that this is a South Asian-owned brand and it makes me reach for it even more daily. The coverage is good and the formula is tacky (in a stay all day kinda way).
Kulfi Main Match Beauty Concealer
Shade Coco Crush
---
Medium Coverage (Drugstore)
If you're looking for a drugstore option, the ELF is one of the best I've found. I wouldn't pick it over any of these, but if you're in a pinch and need something good. I'd pick this one at any drugstore.
Shade Medium Sand
---
Buildable Coverage
Bought this one recently and it's become a fast favorite. I've always loved the Born The Way foundation and the concealer is no different. It's buildable because with one coat you're at medium-full and with two coats you're basically an Instagram filter.
TooFaced Born This Way Concealer
Shade Natural Beige
---
Full Coverage (Clean)
Everyone is talking about the Kosas concealer and it's because it is such a good product. It's a clean beauty product so bonus points for that, I'm always looks

---
Full Coverage
Tried & true, I still love my Shape Tape. In case you fall into the camp who finds this formula drying, they did make a creamy version. I haven't tried it myself but heard good things.
Shade Medium
---
Matte Full Coverage
I've done multiple videos showing the before and after of this and it's literally 8 hours of sleep in a little container. I love applying it with a brush and dabbing it into my skin. Blends beautifully and dries completely matte.
NARS Soft Matte Blur Concealer

Shade Ginger
---
Final Thoughts on Concealer Favorites:
I hope that this post helped you find the perfect formula for you. If you're looking for concealer shade recommendations, I love using the website findnation.com (mentioned this in my foundation post too)- you just enter a current formula and shade that works for you and they match you to other brands, and the color that would work best. It's a magical website.